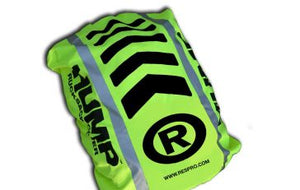 Praktiskt överdrag till ryggsäcken som gör att du syns bra i trafiken och undviker att smutsa ner den när du är ute och cyklar. 

Product info: The LC is a rationalised version of the Waterproof Hump®. It has stripped back features providing a cost effective solution for all your hi-viz and waterproof needs. It is flo-yellow so perfect for optimum day time use with two retro-reflective strips for night-time visibility.

Like the others in the range, the LC Hump® fits over an existing backpack and fastens around its waist. It also features an elastic binding that secures the cover firmly to the backpack stopping it from flapping around or parting company with the bag.